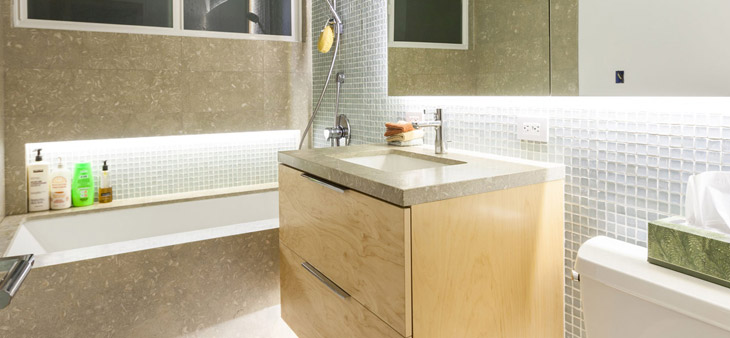 If you're looking for quality bathroom lighting Beverly Hills CA, then look no further than Luxus Construction. Luxus Construction provides professional electrical services, including bathroom lighting to residents throughout the Beverly Hills CA area. As a licensed C10 electrical contractor, Luxus Construction provides consumers with the best bathroom lighting Beverly Hills CA has to offer.
Types of Lighting
Luxus Construction offers customers several types of lighting options. Lighting does so much more than simply lights up your home. Different types of lighting create different moods and setting, highlighting different textures throughout a home. The intensity and color of the light chosen in a space can make a huge impact on the entire ambience of the space, making it feel glamorous, romantic, calm or so on. Personalizing your lighting solutions so that you can change them at your whim makes it easy for you to achieve the perfect lighting solution whenever you want it.
LightStrips
One of the lighting solutions that Luxus Construction offers is LightStrips. LightStrips are designed to work with iOS systems, such as the Apple iPod Touch, iPad or iPhone. They are simply narrow strips that are covered with miniature LED lights and can be adjusted through mobile apps you can install on your Apple devices. LightStrips are easier than ever to install since they merely have to be adhered to the wall or ceiling wherever you want to place illumination. The Phillips Hue Apple LightStrips that Luxus Construction offers provides customers with more than 16 million color hues to achieve the perfect lighting for every situation.
Wi-Fi Bulbs
Wi-Fi bulbs are another option that Luxus Construction offers. They have more of an appearance of traditional LED bulbs, and they can be screwed into any basic home lighting socket. What makes them different from traditional LED bulbs, though, is that they can be controlled from anywhere via mobile app devices on your iOS systems. The Philips Hue Wi-Fi bulbs that Luxus Construction offers come with professionally-designed preset options and the capability for consumers to create their own settings.
Bathroom Lighting Beverly Hills CA
Luxus Construction is your one-stop source for all your bathroom lighting needs in Beverly Hills. In addition to providing modern wireless lighting solutions, they also provide solar panel installation services for those people who want to consume less energy, making the environment a healthier and less polluted one to live in. Luxus Construction's solar panels can also help you save money on utility costs in the long-run.
Contact Luxus Construction to get started. Please call 310-270-8596 for more information.