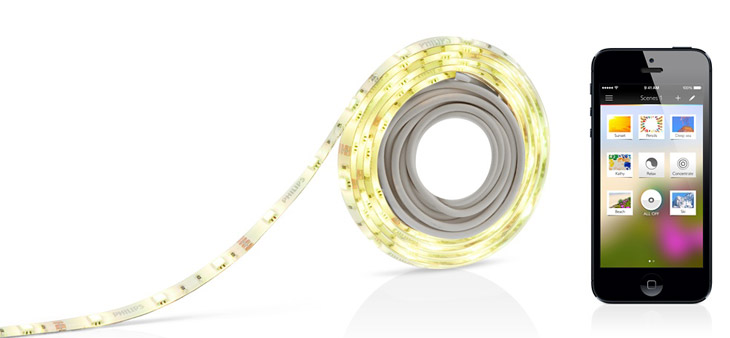 Lighting does much more than simply illuminates a room for people to see each other. It also brings out subtleties, changes moods and provides a touch of glamour, romance or calm depending on the color and intensity of light chosen. Modern concepts of lighting include the ability to monitor and change illumination via mobile apps for ease and personalization.
What Are LightStrips?
LightStrips can be purchased via the Apple store to work with iOS systems, such as an iPhone, iPod Touch or iPad. These narrow strips are covered with miniature LED Apple bulbs and simply adhere to the wall or ceiling where an individual wishes to have more illumination. These then connect wirelessly to the iOS device; by using an app, individuals can control the level of illumination as well as the color of the light from anywhere in the world where they have internet access. In fact, the Phillips Hue Apple bulbs produce around 16 million different colors, helping individuals create a setting that is completely unique.
What Are Wi-Fi Bulbs?
On the other hand, Wi-Fi bulbs look a bit more like traditional LED bulbs and can screw into any basic home light socket. However, they can also be controlled via an app from anywhere in the world. Individuals can create settings with up to 50 of these Phillips Hue Wi-Fi bulbs at a time, such as a setting for waking up and one for relaxing in the evening. The app also has numerous pre-set options designed by experts to help one relax, feel more energized or focus.
Where Can These Systems Be Used?
These systems can be used in any type of home or business because they either attach easily to any solid surface or screw into regular light sockets. However, most users choose specific locations for light strips, such as around the top of a room for mood lighting or below a painting or architectural detail to highlight it. The Wi-Fi bulbs are used best in main lamps or in recessed lighting to provide focused lighting on social or reading areas or to provide overall light in a room.
This type of lighting can be difficult to set up for those who have never worked with it before. It requires installation as well as syncing of the Apple bulbs with an app on an iOS or other mobile system. Of course, those in the Beverly Hills, California, area, including the cities of Hidden Hills, Malibu, Thousand Oaks and more, who are looking for Wi-Fi light strips or Apple bulbs to be installed can contact Luxus Construction for a competitive price and friendly, professional service.