Kitchen Design & Remodeling Services
If you are like most people, you likely find yourself spending a lot of time in the kitchen. The kitchen is a natural gathering space in most homes. You want your kitchen to be the best space possible. It not only has to look great, but it also needs to be as functional as possible to make cooking easier. Luxus Construction is one of the top kitchen remodelers. Here is a look at some ways that we can give you the remodeled kitchen of your dreams.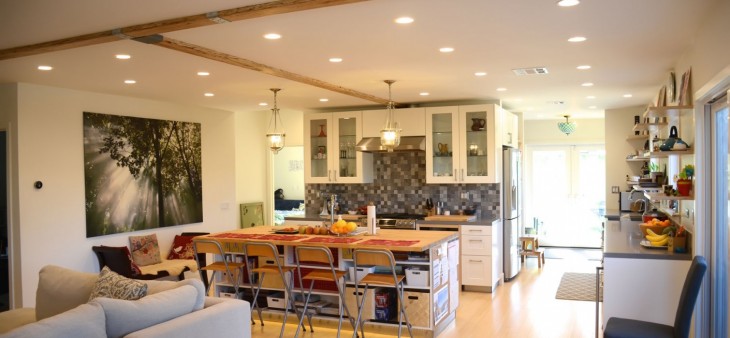 Update Your Cabinets
One of the most common ways to instantly transform the look of the kitchen is to update the cabinets. Our Luxus Construction kitchen remodelers can tear out your old cabinets and install beautiful new replacements. If you are not looking for an update that big, we can refinish your existing cabinets to give them new life.
Install New Appliances
It is incredible how much kitchen appliances have improved over the last decade. They have become highly energy-efficient, meaning you will save a ton on your energy bills and shrink your carbon footprint when you install new appliances as part of your kitchen model. If you love to cook, make sure that you get a topnotch kitchen range installed so that you can whip up all the recipes you love.
Open Your Kitchen Up
Keeping the kitchen separated from the dining room is an antiquated idea. If you want a kitchen with a modern look, make sure that you knock out the wall between the dining room and kitchen as part of your remodel. People in the dining room should be able to see into the kitchen so that they can converse with the people cooking. Doing this also allows you to gain lots of counter space in place of where the wall used to be. You also get the added bonus of improved circulation in the kitchen.
Install an Island
One of the most popular additions people ask kitchen remodelers to install is an island. An island in the center of your kitchen makes sense. Make it a big one with stools around it, and you will have a natural gathering space inside the kitchen that allows you to get work done and have a nice chat at the same time.
If you are ready to upgrade your kitchen, turn to Luxus Construction. We are expert kitchen remodelers. We will transform your kitchen by giving it a modern look that combines efficiency and beauty in one phenomenal package.
Contact Luxus Construction to get started. Please call 310-270-8596 for more information.