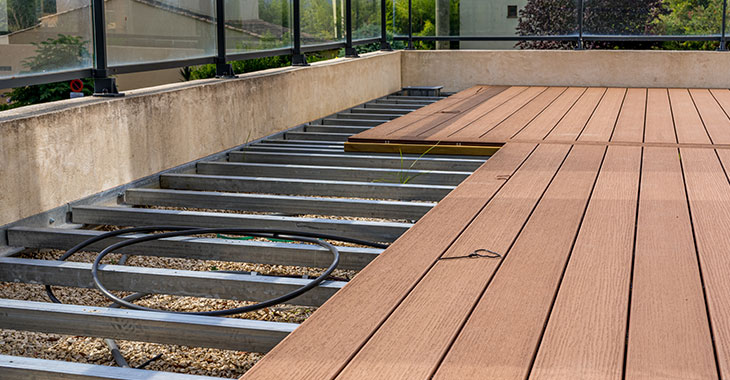 If you are planning on creating a deck, the two most common materials used are wood and composite. Choosing the right one for your needs will go a long way towards making a satisfying deck for your home. Whether you hire a contractor or plan to do the job yourself, choosing between wood decking or composite decking may be the most important decision you make.
Remember that both types of decks will probably use treated lumber for framing and support. This is the part of the deck that you normally do not see. Your decision will be the type of material used to make up the surface and railing of your deck.
What is Wood Decking?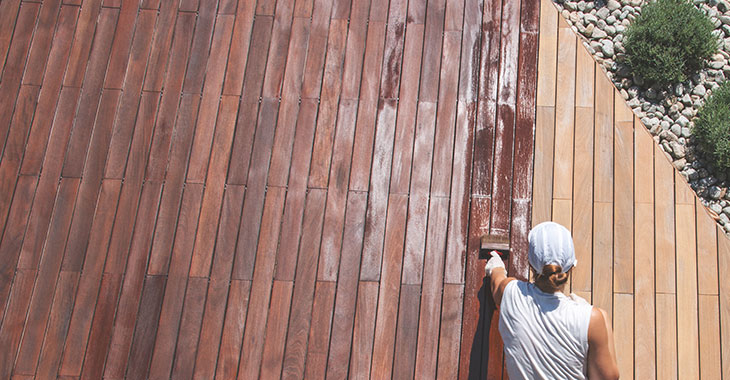 The most common choices for wood decking options include redwood, cedar, and pine that has been pressure treated. You can go with more exotic types of wood, such as mahogany, ipe, or tiger wood, but that will be more expensive.
What is Composite Decking?
This is a combination of wood and plastic which makes for a durable, solid deck. It consists of wood fibers that are encased inside plastic. It is not as visually appealing compared to wood decking, but it is quite strong and weather resistant.
But which one is best for you? The answer can be found when you consider the pros and cons of each type.
Wood Decking – Pros & Cons
The advantages of wood decking start with its familiarity. Until the late 1980s when composite decking was created, wood was the material that was used. The main advantage of wood starts with its familiarity as a decking material. It's also quite available and affordable, making it a great choice for those who want to keep the installation costs down.
However, wood decking has some significant disadvantages as well. Wood can be difficult to maintain without considerable expense. It is vulnerable to rot, splinters, and mold infestation. This means you are going to spend more over time maintaining a wood deck compared to one made of composite materials.
Composite Decking – Pros & Cons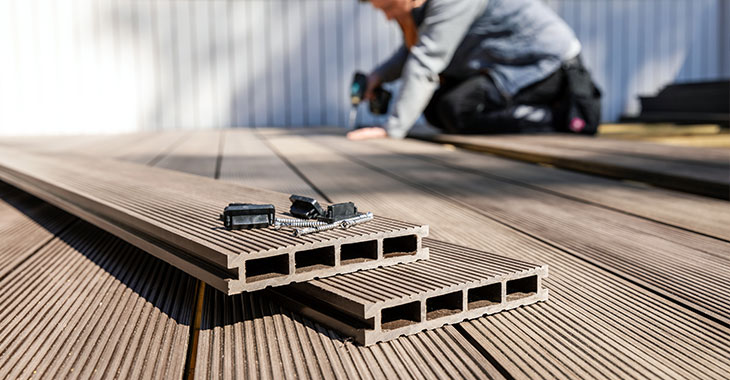 This type of decking benefits from being stronger, more durable, and requiring considerably less maintenance compared to wood decking. Because the wood fibers are encased in plastic, they do not need the extensive maintenance and protection compared to wood decking material.
The downside starts with the expense. Composite materials are more expensive compared to wood. This means having to pay more to put the deck together. Arguably a bigger disadvantage is how composite decking looks compared to natural wood decking. It simply is not as attractive and can look quite plastic depending on its source.
If you are in the market to build a new deck, then you should consider wood decking options if you can handle the maintenance. However, if you want your deck to require less maintenance and do not mind how it looks, then composite decking may be the right choice for you.
Start with your budget and consider all the options from installation to maintenance over time. That will help you make the best-informed decision about whether composite or wood decking is right for you.
Get a free estimate for your project. Contact Luxus Construction to get started. Please call 310-270-8596 for more information.