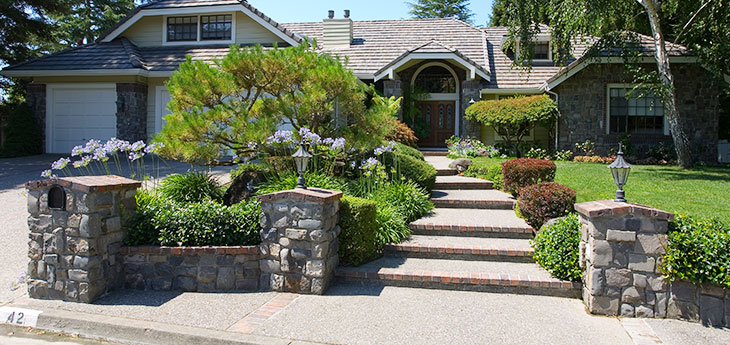 You have probably heard about landscaping, but perhaps not as much about hardscaping. Yet, both landscaping and hardscaping go together to help beautify your home.
Hardscaping services refers to the landscape materials that build up the structures on your property, such as the following:
Driveways and Sidewalks
Retaining Walls and Sleeper Walls
Stairs, Walkways, and More
Basically, hardscaping refers to the stone, concrete, and wooden structures help make up your property as much as the lawn, grass, bushes, gardens, and trees. Sometimes, hardscapes may include large patios, fountains, or pools which help hold the water in so that it does not drain into the lawn. Hardscaping has become more popular in recent years for a variety of reasons.
Benefits
Easy Maintenance: Once install, the hardscape will last for many years, especially when crafted out of stone or concrete. Washing the dirt off occasionally will keep the hardscape looking new and it may outlast your stay in the home. It also means less work having to take care of your yard which is always a plus.
Durable: When you choose the best in hardscaping services, you can trust that their work will last for many years to come. This means that once it is properly installed, you can rely on it being around for decades if it is crafted from stone or concrete. Even wooden hardscape structures will last a long time with the proper maintenance.
Excellent Return of Investment (ROI): For homeowners who might one day sell their property the hardscape will help add value to the sale. This is because it requires virtually no maintenance, takes up landscape space that otherwise would need to be mowed or addressed, and retains its beauty for many years to come.
Why Choose Hardscaping Services?
There are good reason why you should choose such services if you are planning to remodel or revitalize your property. You'll need to hire the best in licensed, insured hardscaping services that guarantees their work. Keep in mind that the prices they charge you may earn back in terms of enhancing the sale value of your home.
Property Improvement: Your property will look better when installing the right hardscaping, such as a new driveway, sidewalk, patio, or other feature. This will not only enhance the beauty of your home, but also catch the eye of potential buyers who notice excellent hardscape right away.
Fresh, New Appearance: When you consider that many people move because they are tired of living in their old home, a remodeling effort that uses hardscaping to enhance the property offers an excellent, low-cost substitute. Instead of moving to a new location, you can change the appearance of your property and enhance its value both in terms of sales and enjoyment.
From adding new fences to sidewalks, decks, and more, there are hardscaping services that will meet your needs in terms of adding practical features to your property and exceed your expectations in terms of their durability, beauty, and boost to the value of your home.
Contact Luxus Construction to get started. Please call 310-270-8596 for more information.