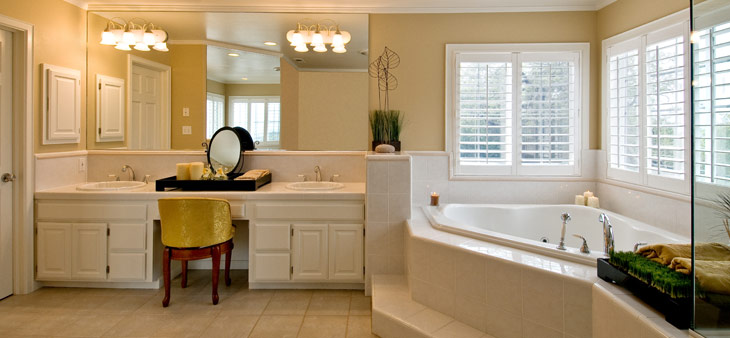 If you're someone who enjoys long, bubble baths, perhaps in a jetted tub, or showers in a large, spacious, multi-headed shower, or if you've always dreamed about double sinks with granite countertops, then why not turn that old, dingy bathroom into a place you actually want to spend time in. Think about how often you have to be in the bathroom: to get ready for work in the morning, to get ready for bed in the evening, and on and off throughout the day and night. So, turn it into a place you enjoy.
When considering a bathroom remodel, first determine how much of a budget you have to work with. Whether you've been saving money for some time or you've borrowed money solely for this purpose, you're likely going to have a budget, and therefore a limit on how much you can do to your bathroom. So decide what's most important to you in the remodel. Is it more storage space or a larger shower? Or double sinks with a large vanity mirror and granite countertops? Choose what you consider to be an absolute must-have first, then determine how much it should cost you, and work your way down to the less important things on your wish list.
It's definitely important to hire a contractor for your bathroom remodel, not only because they are experienced and know what they're doing, but also because the law requires that everything meet certain standards and codes when being remodeled. The most important part of any remodel is the contractor you choose to do the work for you. It's important that you choose one you can depend on who has experience with the things you want to remodel in your bathroom.
It's always best to go with a licensed and insured contractor who has a lot of experience doing complete remodels. You'll definitely want to discuss the time frame, budget, and where and when you can add your input throughout the process. Time frame is very important, especially if you live in a house that only has one bathroom. You don't want to hire a contractor who starts the job only to leave you bathroom-less for days, weeks, or even months as he or she continues onto another project in the middle of yours. Come to an agreement with your contractor about how long the process will take, keeping in mind that a large bathroom remodel is not likely to be completely finished in a matter of days.
As a local, licensed and insured general contractor, Luxus Construction can provide perspective clients reviews from satisfied customers and tours of our previous building projects. Contact us today to learn more about our customized renovating, bathroom remodeling or new construction project services.