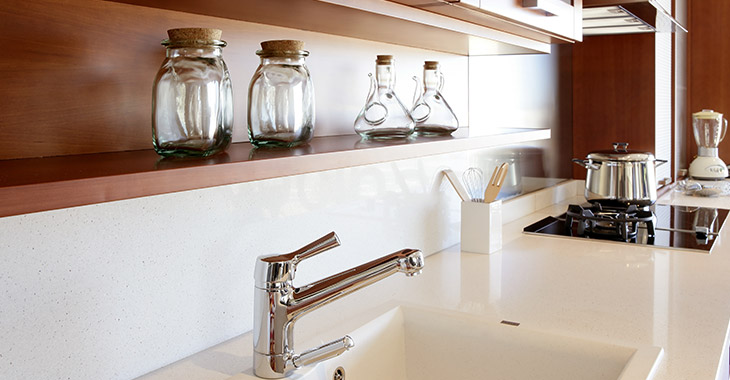 There are many motivations for making a kitchen Environmentally friendly. For some, their concern for the environment motivates them to build an Ecofriendly kitchen. Others have allergies and chemical sensitivities that necessitate the use of Ecofriendly building materials in the kitchen. And almost everyone is interested in lowering their electricity and water consumption costs. Whatever the reasons and goals are, there are more options available today for Ecofriendlying your kitchen.
Energy Efficient Appliances
The refrigerator is one of the home's highest consumers of energy. Since 2001 the national energy efficiency standards for new refrigerators has required manufacturers to make more efficient models. Utility providers in some states offer rebates for homeowners who purchase models that exceed the minimum standard. Looking for the Energy Star sticker on all your kitchen appliances is a great way of making your kitchen Ecofriendly. Once you have your "Ecofriendly appliances" make sure you use the water and energy-saving settings on your kitchen's refrigerator and dishwasher as much as possible.
Lighting
Energy efficient lighting can cut down on your utility bill. Most standard fixtures are compatible with LED bulbs. LED lighting can save 80% of the electricity that incandescent bulbs use. LED technology has come a long way. In the past, some people stayed away from LED because they didn't like the inefficient and sterile light they gave off, reminding them of older office lighting. LED bulbs now offer cool and warm light and are available in a wider range of wattage and lumens. Look for the Energy Star on this product as well. While the initial cost of these bulbs is slightly higher, they last eight times as long.
Hypoallergenic Materials
As the number of people who suffer from environmental allergies and chemical sensitivities increases, so does the need for hypoallergenic building materials. Building or remodeling your kitchen can produce toxins that are harmful to indoor air quality. To reduce this problem there are low-toxicity finishes and surfaces available on the market. Look for products that have water based adhesives and finishes and ones that don't have synthetic formaldehyde resins.
Ecofriendly Cabinets
There are more Ecofriendly kitchen cabinet options available on the market today. Many of the options are made from rapidly renewable resources and salvaged materials. Wheatboard cabinets, for example, are covered with wood veneers. Manufacturers offer these cabinets with ultra low VOC, water based adhesives and finishes. You find out more about this healthy and affordable option from Humabuilt Cabinets.
Ecofriendly Kitchen Products
Cork flooring is durable, comfortable under foot and is a terrific insulator for both sound and heat. Cork is also hypoallergenic and environmentally friendly, making it a great Ecofriendly flooring product.
Concrete is another smart Ecofriendly kitchen product. It does not give off harmful fumes because it doesn't contain glues or laminates. Concrete has many different applications. It is not a "cheap man's option" anymore; it is a designer's choice. There are many patterned concrete flooring options available. Why not research color and pattern options for this Ecofriendly product? Concrete is also commonly used in countertop applications.
There are a number of Ecofriendly companies out there that make glass tiles out of recycled glass that make stunning backsplashes. Glass tiles do not give off emissions and they won't damage indoor air quality. Consult the manufacturer's instruction guide for instructions on proper installation and to ensure you are using a glue product that will not yellow.
Contact Luxus Construction to get started. Please call 310-270-8596 for more information.