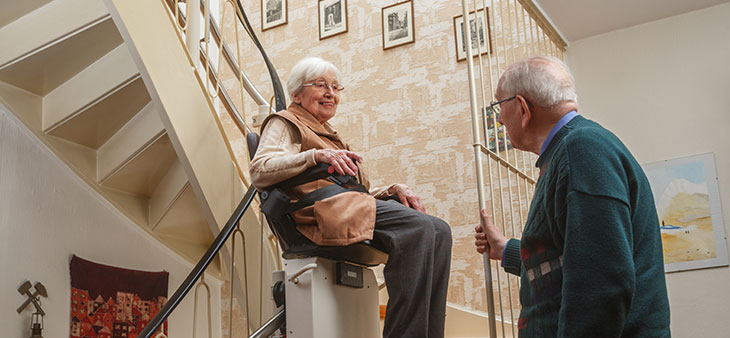 As the population gets older, the need to remodel homes where seniors live become more pressing. As a person ages, their need for assistance grows stronger, but there are many simple renovations that can help seniors who have mobility issues get around their home. Remodeling with seniors in mind starts by addressing their immediate needs so that they can get around with confidence.
Start Early
The good news about remodeling for seniors is that many of the changes can start even before they show signs of limited mobility without breaking the budget. By starting as early as possible, it helps to catch the gradual changes that seniors undergo as their mobility becomes more limited. Here are a few tips about where to start.
Address Specific Areas: First, anything that might cause someone to slip or fall should be addressed. This includes rugs that are not flat on the surface, slick areas around the bathroom or kitchen, and dark places where it is difficult to see. This is not only good for seniors, but anyone who wants to avoid an accident.
Handholds: Look for key locations, such as getting out of the tub, the toilet, or next to stairs for that added touch of security. As you grow older, you'll appreciate having the security of handholds in key locations.
Larger Remodeling Efforts
For seniors who need more assistance than just making the home safer and installing handholds, there are several items that can be quite useful in the home.
Walk-in Bathtubs
Chair Escalator
Wheelchair Ramps
Widened Doorways
You will need to do a thorough search of the home to ensure that the needs of seniors are met in terms of making their mobility around the residence easier. However, you will need to hire the services of a respected contractor if you cannot do the work yourself.
How to Find the Right Contractor
Once you are ready to make bigger changes, such as adding a wheelchair ramp or new bathtub, hiring the right contractor is a crucial part of the process. When you remodel with seniors in mind, it means that you will need to hire a reputable contractor that has the following items and services;
Licensed & Insured
Experienced with Remodeling for Seniors or the Handicapped
Excellent Reputation with Consumers & Organizations
Affordable Fees that are Known in Advance
It is best to choose a contractor that is licensed and is insured just in case an accident should occur inside the home. Being insured means that you are not stuck with the repair bill for an accident the contractor caused. Their experience in remodeling for seniors and reputation are most important qualities in your search.
Once you have narrowed the search down to a few contractors, you can use their estimate as the basis for deciding which one works best for your budget. Remember, you are not looking for contractor who does the cheapest work, but rather the contractor that provides the best remodel with seniors in mind at the lowest price.
Contact Luxus Construction to get started. Please call 310-270-8596 for more information.