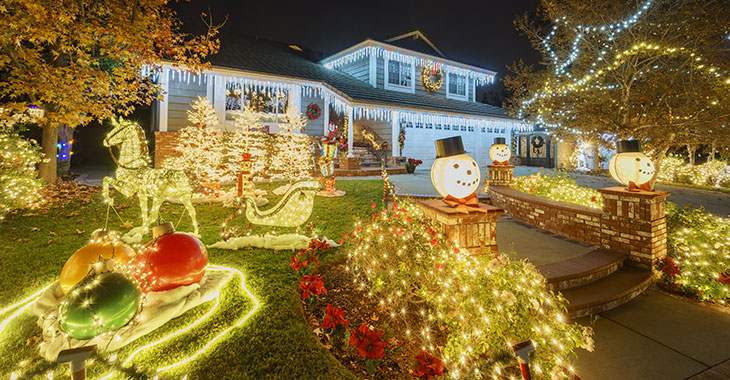 When you consider the time, expense, and inherent danger of hanging up and taking down holiday lights, then you can see the need for professional holiday light services. While some many only consider a professional service because they suffer from restrictions in doing the work themselves, there are good reasons why you should think about this type of service.
For many homeowners who enjoy setting up lights for the holiday season, one consideration is the cost that goes into buying, setting up, and taking down the lights.
Average Cost of Installing Holiday Lights
The typical cost of light installation across the US is $300, give or take $100 for the average home. This depends on numerous factors that include the size of the house, number of lights, and any special arrangements that must be made. While $300 may be the average, many homeowners spend up to $2000 or more on lighting up their home so Santa and possibly the rest of the world can see.
With the average cost being so high, it makes sense to consider hiring a professional service to do the job. What follows are the advantages of letting professionals both set up and take down your holiday lights.
Benefits of Professional Holiday Light Services
It is true that the average cost of a professional service setting up the lights for your home ranges from $1.25 up to $3.00 per linear foot which can really add up depending on the length and number of lights you want installed, but there are advantages they offer as well.
Removing the Risk: Hanging holiday lights yourself, especially if your home has a second story, can be quite dangerous even under ideal circumstances. All it takes is one mistake, one miscalculation and you might fall from the ladder. Such accidents happen more often than you might think. And even a fall from a relatively short distance may lead to bruising, sprains, broken bones, or worse.
A professional company takes the risks for you. Plus, they have the training, tools, and equipment to minimize such risks. Plus, they are covered by insurance which means that if they slip, you do not pay for the results of the fall.
Cost Efficient: Another strong advantage is that a professional service offers rates that are affordable. Plus, they can do the job relatively quickly, so you can go about your day doing something else. The money you spend on the service may be quite inexpensive compared to the time and effort it takes for you to do the work yourself.
Professional Advice: You can get solid advice from experienced professionals about the best place that your lights can be displayed. This helps make your home even more wondrous when lit by holiday lighting.
Keep in mind that if you already have the lights, you may earn a discount from the company. Especially if the wires are not tangled and ready to go.
If you are looking to put up lights for Christmas and the holiday season, then it pays to use a professional, reputable company to do the work. Hiring professional holiday light services will save you time and effort while protecting you and your family from the dangers of setting up or taking down lights from your home.
Contact Luxus Construction to get started. Please call 310-270-8596 for more information.