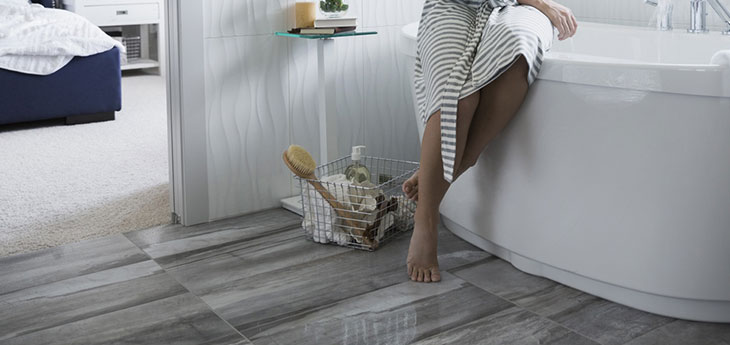 So it's one of those winter mornings when you have to pull yourself out of bed, and you almost dreading that icy shock of your hardwood or tile floors. Or it's just a really cold day and you dash into the bathroom for a long, hot shower, but then your tile floor feels very similar to the surface of a frozen pond.
It is days like these that the concept of an in-floor heating system like Nuheat floor heating systems becomes more like a necessity than a luxury addition to your interior décor. But before you get all excited about the prospect of having Nuheat floor heating systems, perhaps you want to know what you get when you install one.
The primary benefit of installing Nuheat floor heating systems in your home is increased energy efficiency. With this floor heating system, you get to cut back on your utility bills as Nuheat floor heating systems save more energy than the conventional HVAC systems.
And the best part is you can decide whether you want Luxus Constructions to install it throughout your home or if you just want it in one or two rooms. Imagine walking into a warm and comforting basement instead of humid or even cold temperatures that characterize each step you take down the stairs to the basement.
Nuheat floor heating systems is an innovative energy-efficient heating technology redefining the concept of "warmth and comfort of your home".
Comfort, however, is a matter of perception. A more quantifiable element would be the benefits of having an in-floor heating systems.
Benefits of Nuheat Floor Heating Systems
While Nuheat floor heating systems turn off and on less frequently, the conventional HVAC systems consume more energy by ramping up from a "cold start" and this uses more energy compared to Nuheat floor heating systems.
There are certain health benefits that come with installing Nuheat floor heating systems. On really cold days when you need to turn up the heat, using your furnace can drain the humidity from your home, thus leaving your sinuses throbbing. Nuheat floor heating systems, on the other hand, heats the floor surfaces without draining the humidity in your room, and as such you don't have to suffer just to get some warmth.
Nuheat floor heating systems do not rely on ducts, fans, registers and returns to circulate hot air, and this by extension reduces the seasonal allergens and dust circulation within your home.
Nuheat floor heating systems are also scalable. This means, as a homeowner, you can create have Luxus Constructions create custom solutions to meet your needs.
Nuheat Floor Heating Systems are ideal room specific heat source options for both new construction or renovation projects. These easy-to-install systems are available for a range of floor surfaces, including tile, stone, and laminate/engineered wood floors.
From standard cable, mesh and mat floor heating solutions to cable solutions with uncoupling membrane or made-to-order custom mats, Luxus Constructions is uniquely positioned to help you introduce warmth and comfort into your home.
What are you waiting for?
Contact Luxus Construction now for innovative solutions at cost-effective prices. Please call 310-270-8596 for more information.
We look forward to working with you on your next project.