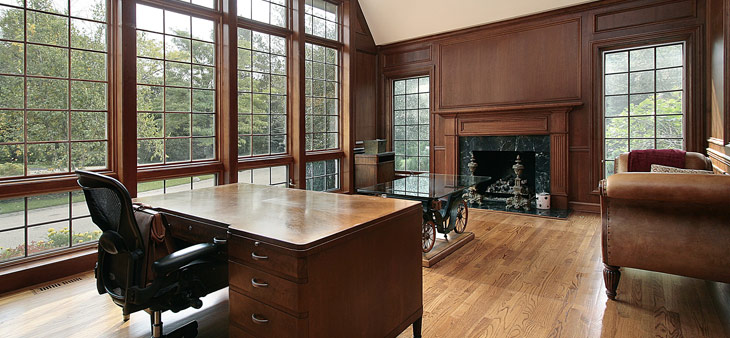 If you entertain clients in your home office, you'll want the area to be representative of the way that you do business; a professional area in which to discuss contracts, review plans, or discuss the path forward should be completed in your home office that exudes functionality as well as attractiveness that appeals to your clients. The first impression that they have of your company will be the area in which you work and should showcase the details that you have handled for your own convenience and pleasure. It's worth the investment to have a charming office that conveys your serious attitude toward conducting business and handling the client's need in an efficient manner.
Location in Your Home
The location of your home office is one of the first decisions that you must make when you want to conduct business from home. It should be close to the front entrance of your home, have plenty of natural light, and feature the ability to provide you with a quiet space in which to work. You may spend many hours working in this space so make sure that it's located where you can attend to other tasks in your home but still have the privacy that you need.
Interior Design
You will want to try to keep the interior design theme that you have in your home also present in your office. A great way to introduce elegance into your home office setting is to incorporate decorative ceiling tiles that coordinate with your wallpaper or paint that you have. You can also use wall panels that add a touch of style and function to your work space. Clients will be sure to notice the special touches that you have added to your work area as they look around your office when they come for an appointment. Be sure to use some of your favorite artwork on the walls and include some personal items for display that demonstrate your well-roundedness to your clients.
Choose Quality Materials
As you select the materials that will be used in the construction of your home office, be sure to choose quality materials that are durable and attractive as well. From the wall panels that make your work area appear more spacious to decorative ceiling tiles that make your office look professionally done, it's important that you choose only the best products so that your work space will be conducive to closing deals and signing contracts with potential clients. As you work toward setting up your new home office, choose furnishings and materials that make your work area organized, easy to maintain, and functional for you; make sure that you're comfortable, have plenty of space for storage, and that your materials promote the professional atmosphere that you desire.
Contact Luxus Construction to get started. Please call 310-270-8596 for more information.