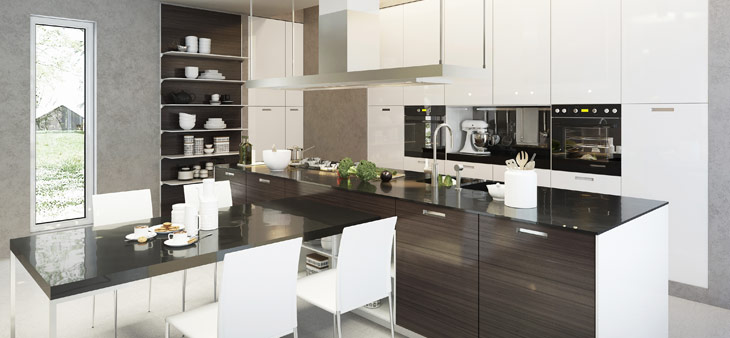 If you feel that it's time to breathe new life into your home, one of the best places to start is the kitchen. Your kitchen is the heart of your home, a gathering place for your family, a place where memories begin with each delicious dish that is set on your table. With the help of Luxus Construction, you can transform this essential room of your home through kitchen remodeling. When you need a licensed general contractor and a name you can trust in the industry, Luxus Construction is at the ready. The company will work with you to make your visions a reality.
It All Begins with a Plan
You will be in good hands when you contact Luxus Construction for your kitchen remodeling project. You can expect personal service as a design team meets with you at your convenience to look at your existing space and discuss your goals for the final outcome. Whether you have a clear picture in your mind of what you want or you are open to suggestions, the Luxus Construction team is here to guarantee your satisfaction. Through a combined effort, your kitchen remodeling project will go in the direction that you want it to go. This is your kitchen and your home. Allow the creative individuals at Luxus Construction to use their talents to make your dreams become a reality.
Be Involved Every Step of the Way
When you hire Luxus Construction for your kitchen remodeling, you will be a part of the consultation for your design. You will be able to watch progress underway, ask questions, and request modifications. If there is something that needs to be changed, the Luxus Construction design team will stay on top of your project. In the end, you will get the kitchen that you have always wanted.
Kitchen Remodeling Tailored to Suit You
It doesn't matter if your kitchen is large or small. Regardless of the size of your project, Luxus Construction is dedicated to offering you top notch services at a price that will fit your budget. Expect results and a kitchen that will endure as you watch the transformation take place. With Luxus Construction at the helm, you can have peace of mind. Your kitchen will be in the hands of the experts. Reap the benefits of working with Luxus Construction, a contractor committed to providing you with excellence.
Contact Luxus Construction to get started. Please call 310-270-8596 for more information.