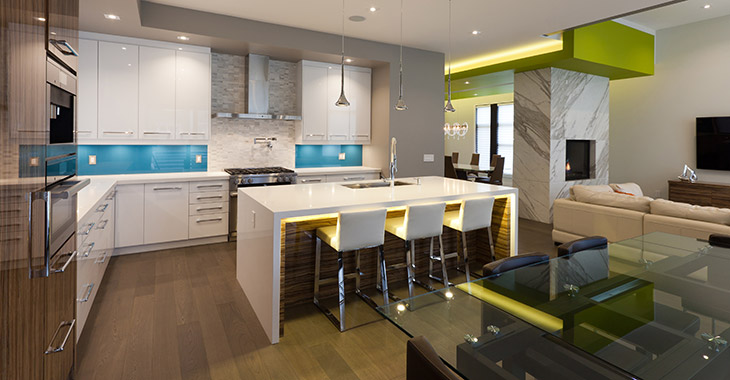 For many homeowners, the kitchen is the heart and soul of the home. It's not just where meals are prepared. It's where the family is most likely to gather before beginning another day. The kitchen is where we casually entertain our guests before moving to more formal settings like the dining room or patio.
Considering this, it's not surprising that kitchen remodeling has become a popular project, giving the area a bold new veneer.
A kitchen remodel cost is going to depend on a lot of factors, including quality of materials, size of kitchen, appliances, upgrades or replacements, and cabinetry. Granite counters will be noticeably more costly than butcher block. A stainless steel black refrigerator with French doors is going to set you back as opposed to a standard two-door white fridge. Costs can be impacted by other factors, like location (prices can vary state-to-state, city-to-city, even town-to-town) and contractor.
The most important element of a kitchen remodel cost is going to be the contractor. Even if you're planning to do the work yourself, it cannot be advised enough to, at the very least, have the counsel of a professional with a history in upgrading sinks, installing high-end appliances and building custom cabinets. Someone you can trust won't merely lead you to the best processes, they could save you thousands of dollars. In the end, the complexity of the project should decide who will do the actual work. It might be more affordable to do the work yourself, but not at the expense of not getting it done right.
Envision what you want the final product to look like. Forget the kitchen remodel cost at this point. Go through the magazines, find pictures on the Internet and do all the drawings. Once you have your ideas down, it's time to get realistic. Look at your budget and decide what you can afford. A contractor will be invaluable here. Maybe the project can be broken up, giving you the opportunity to build your dream kitchen one piece at a time. Maybe you have to substitute marble countertops for a laminate.
What's most amazing about the kitchen remodel cost is that even a modest budget can build a dream kitchen. You may start out with ornate, hickory, white washed cabinets, but compromising to align with your budget and actual needs is actually a good thing. In the end, you want a kitchen as affordable as it is amazing.
Get a free estimate for your kitchen remodel project. Contact Luxus Construction to get started. Please call 310-270-8596 for more information.