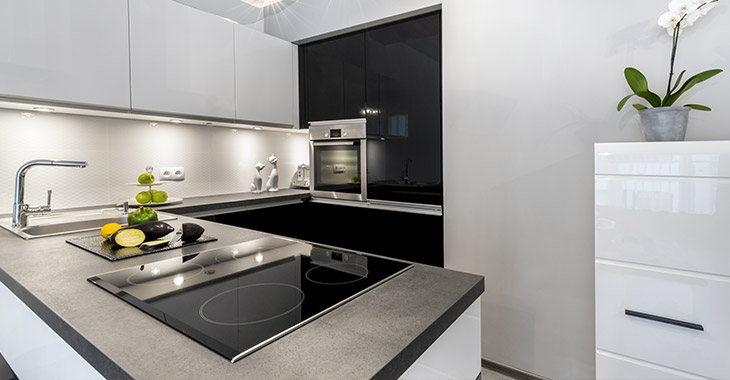 In any kitchen remodel most of the attention will be focused on the cabinets – at first. The next major concern is the countertop which is the next major work area of the kitchen. They began as workstations for cutting and preparing food and were usually the tops of benches washing areas, chopping blocks and even stoves. In other words anywhere the homeowner could find a flat surface could be called a countertop.
Laminate Kitchen Countertops
Believe it or not laminate is made from layers of paper which are stamped with the pattern and fused with a hard epoxy. This compressed sheet is then adhered to a particle board backing complete with raised backsplash. It is immensely popular because it is available in a huge selection of styles and colors, it resists abrasions and stains and, more importantly, it is inexpensive. As a matter of fact a home owner could change out 3 laminate countertops for the price of one granite surface.
Ceramic Tile
A surface which has been around a long time is ceramic tile. The old drawback with tile was that the grout got dirty and had to be cleaned regularly. As well, iit stained and had to be redone often. However, new sealers have made this job redundant and tile is making a comeback. Granite and marble are also becoming popular choices for a tile countertop and a very inexpensive way to have the luster and finish of these great surfaces.
Granite, Marble and Natural Stone
There is nothing that can compare with the luster and richness of a countertop made with a natural stone like granite, marble, travertine or soapstone. The only drawback is that all have to be regularly sealed as they are porous materials – and they are expensive. The thickness of the countertop will determine much of the price. The counters will come in long, polishes slabs cut to fit the exact areas need for counter surfaces. It is the length of these slabs that also has an effect on the price as shipping them safely takes a lot of care and packaging.
Wood Countertops
One of the old materials is making a comeback for countertops – Wood. Especially exotic hardwoods, are beginning to once more grace the kitchens and add a complimentary buffer for the cabinets. For those who like the look but feel uncomfortable with unfinished wood around food can have the polished with an acrylic or urethane. Other types of wood include planks which have bee reclaimed from old barns and buildings. These slabs are planed and finished showing their rich grains. Some designers are incorporating the wood counter with an old apron-sink design for a truly retro look of a farm kitchen.
Concrete Countertops
There is a new niche in the countertop market that calls for more personalizing of the area. This is accomplished with smoothed concrete, an innovative way to get color, style and durability in one swipe. The concrete countertop can be fabricated in a shop or right on site with special, smooth forms. The color is added to the cement mix and the patterns can be stamped or added when the concrete is setting. Then the surface is honed to a smooth finish and sealed because cement is porous. Afterward the homeowner has a counter surface that is a once-of-a-kind. Because of the labor involved, concrete is slightly more expensive than granite but weighs the same depending on thickness.
Rock Composite Countertops
Another product that is becoming popular as a kitchen surface is a composite rock and epoxy mix. Granite or other rock dust and small chips are mixed with epoxy and smoothed to a solid, non-porous finish. It resists staining and hot pots. In addition, it can be fit right over another counter surface so does not have to be as thick as regular granite or stone.
Metal Countertops
Stainless-steel sinks are common in commercial settings and bring a restaurant look to the home kitchen. Some homeowners like the ease of use and easy-cleaning aspects of stainless steel having many of the other commercial fixtures like a deep sink and restaurant-ready gas stove. For more exotic tastes there is copper and bronze but these, of course, would be for show. Any cutting would be done on portable cutting boards.
Get a free estimate for your new countertop project. Contact Luxus Construction to get started. Please call 310-270-8596 for more information.