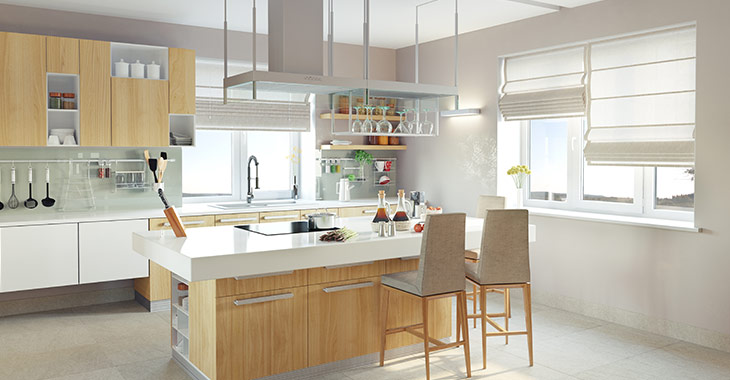 Are you looking for kitchen construction home design ideas that will make your kitchen more functional and stylish? You probably spend more time in your kitchen that you do almost any other room in your house, and you want a kitchen that you like being around and one that makes you feel happy. Working with a professional contractor is the key to getting the kitchen that you always wanted and a room that has all the space and amenities that you need. Get an idea of some of the hottest kitchen designs before meeting with your contractor.
Professional Kitchen Designs
Do you ever find yourself watching your favorite television chefs and lusting over the kitchens on their sets? You can create your own kitchen that utilizes some of the features found in professional cooking spaces. A sub-zero refrigerator has all the space you need for the foods your family loves, and you'll have plenty of room left over for matching stainless steel appliances. Contractors can help you install a new island with a working sink and built-in appliances that provide you with all the amenities that professional chefs have.
Create a Celebrity Worthy Space
Some of the newest kitchen construction home design ideas help you create a kitchen like you might see your favorite celebrities using in their own homes. These rooms often have an open layout with a light and airy look, which you can get from new taller windows installed along one wall and chrome lighting fixtures suspended from the ceiling. Granite or slate counters and tasteful wood cabinets in a rich shade of cherry or mahogany only add to that rich and expensive look. Construction companies can tear out and completely remove all your old fixtures, appliances and even floors before giving you a celebrity worthy kitchen.
Put Your Family First
Create a new kitchen that is perfect for family meals and spending time together. Work with your contractors to add new counters that provide places for your family to sit and chat as you make dinner together. Track lighting installed in the room provides you with all the lighting that you need but won't get in your way like suspending lighting can. Take a look at some of the hottest kitchen construction home design ideas to get a feel for what you want and need before talking with a construction company about renovating your home kitchen.
Contact Luxus Construction to get started. Please call 310-270-8596 for more information.