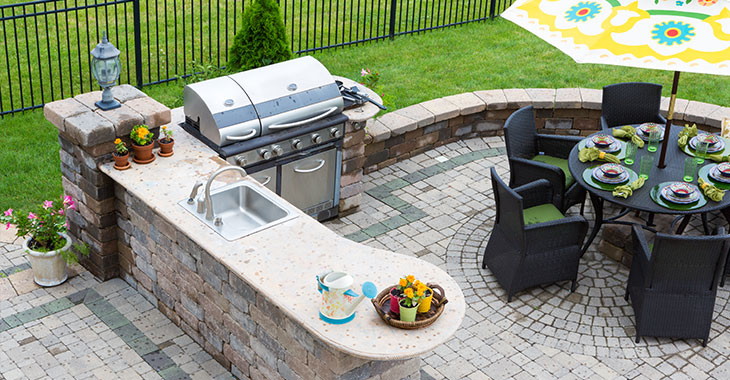 Creating an outdoor kitchen provides you a great place to cookout with family and friends during the warm months of the year. However, there are many who believe that an outdoor kitchen is quite expensive and out of their budget. The truth is that you can build such a kitchen and stay within budget using less expensive alternatives.
This will require planning on your part which starts with the space you have, the brand of grill you need, and the important accessories for your outdoor kitchen.
Getting Started
It all begins with what you have and what you want. This means asking yourself the following questions about setting up an outdoor kitchen:
What do you want for your outdoor kitchen?
How much space is available?
Will the kitchen have a preparation area?
Is the setting formal or will be it more comfortable?
What is your budget?
It's important to answer these questions so you can begin your quest to create the kitchen. It is also important to address the following issues as well.
Accessible: You will need to have the area close to the house to keep from walking back and forth over long distances.
Electricity & Water: You will need both if you want to run a proper outdoor kitchen. That requires plumbing and the running of electrical lines.
Shelter: Not every day will be a sunny one. What happens if it does rain, or you experience inclement weather? You may want some type of covering available for protection when you are preparing meals.
Wind Direction: This is often overlooked as you want the grill and kitchen to be downwind of the seating area. Of course, the wind may come from any direction depending on the circumstances, but in general the wind will mostly come from one direction during the warm months of the year.
Building Your Outdoor Kitchen
Now you are ready to go with a budget in place and the area marked off. If you hire a contractor to do the job, then all you need to do is provide oversight to ensure that your kitchen is the way you want. Also be prepared for any unexpected issues to arise so you have alternatives in place.
Appliances: The most important consideration is that all electrical outlets and wiring are protected. The last thing you want is to have exposed wiring when it starts to rain.
Cabinets: Storage is one of the most overlooked aspects of outdoor kitchens. You can go with high-end models or use standard, inexpensive cabinets that have been weatherproofed.
Flooring: This is an important consideration given that the flooring will be exposed to the elements and the heat and moisture of the kitchen. Tile and vinyl are good choices because they are waterproof and require relatively little maintenance. But you can go with hardwood or even carpet if you are on a tight budget.
Of course, your outdoor kitchen can be customized to become a barbecue, a fashionable setting, or even a bar. It's your choice, just be sure you have the budget, planning, and follow-through to make your dream kitchen come true.
Contact Luxus Construction to get started. Please call 310-270-8596 for more information.