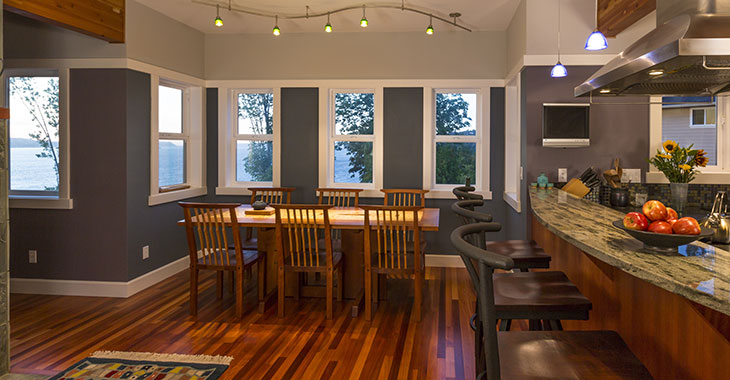 Many homeowners would like to update certain areas of their home to make it more livable and increase its value. Do-it-yourself projects are popular these days, and most people with average skills can successfully finish simple projects. The first step in home renovation is determining whether or not to hire a professional.
Add the Right Color
One of the least expensive ways to redecorate a home is with paint, and most people are able to accomplish the task by educating themselves about proper painting techniques. Dark or intense colors will make a smaller room appear dark, so light colors are the best choice. This is especially true if there is little or no natural light entering the room.
Get the Most Value for Your Investment
Kitchen remodels are popular projects and add more value per dollar spent than any other update. A complete kitchen makeover can be very expensive, especially if a professional contractor does the work. If the base cabinets are solid, a kitchen reface may be the best choice. Refinishing the cabinet doors, updating the handles and replacing the countertops will give the kitchen a brand new look at a greatly reduced cost.
Updated Flooring is Important
Flooring that is worn or faded greatly detracts from the appearance of a home, and most types can be replaced by the homeowner. Many home improvement stores have literature that describes the proper way to install various types of flooring, but a professional may be needed for hardwood or ceramic tile. Flooring costs for smaller rooms can be reduced considerably by finding carpet or linoleum remnants at a home improvement center. Once the walls and flooring have been updated, adding accessory items such as area rugs, lamps and throw pillows will help to achieve a decorator look.
Outdoor Living Space is Valuable
When the temperature begins to rise people want to enjoy their outdoor areas. Adding a deck just off the kitchen provides a convenient space for grilling and summer entertaining. Building a deck is not a complicated home renovation, but homeowners should make sure they follow the correct procedures for the foundation and supports. Sometimes a concrete patio makes more sense, although this project can be very labor intensive.
Home renovation can increase the value of any home, but do-it-yourself projects should not be taken on without sufficient knowledge and finances. The best way to accomplish home renovations is one at a time so no unfinished projects end up devaluing the property.
Contact Luxus Construction to get started. Please call 310-270-8596 for more information.