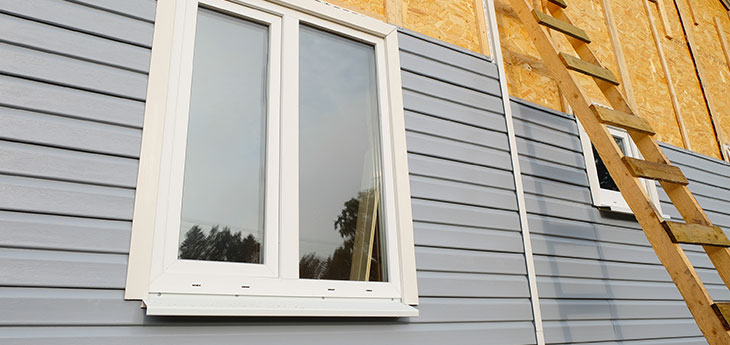 One of the most popular methods to improve the outside appearance of your home is siding. Over the past few decades, siding has become a popular choice because it can change the look of the exterior, comes in a variety of styles, and provides an additional layer of protection. You will need the services of a licensed siding contractor and finding the right one for your needs will take a little research.
Why Choose Siding?
There are good reasons why you should place siding on your home if it has vulnerable exterior materials such as wood. The first reason is the protection it offers from the elements and the UV rays of the sun. Proper siding not only provides additional protection, but is far easier to maintain compared to paint which must be reapplied every few years.
It also resists insects and pests, plus it comes in a wide variety of styles so you can choose the color and appearance that the siding will provide to your home. For many, siding is a necessary part of protecting the home and makes for a strong investment.
How to Find the Right Licensed Siding Contractor
The first step is to narrow the list of potential siding contractors by only focusing on the ones who live in or near your community and are properly licensed. Being licensed means that they follow all local or state rules and regulations for the installation of siding. Contractors who are not licensed should be avoided as their services will not be covered by the law.
Insured: Accidents happen to even the best siding contractors, so they will need to be insured in case they do damage to your home or property. Otherwise, you might be left holding the bill.
Reputable: A good siding contractor will have plenty of references, testimonials, and customer reviews for you to review. In addition, they should be members of respected organizations such as the Better Business Bureau (BBB) which monitors customer complaints. While even the best siding contractors will have a few negative reviews, you are looking for a pattern of behavior such as showing up on time, hidden or surprise charges, or not delivering on what is promised as your guidelines.
Selection: Many contractors work with suppliers that offer the three basic siding solutions, wood, vinyl, and cement. Each has its advantages, but vinyl is fairly inexpensive and highly durable even if it looks somewhat plastic. Cement siding is the most expensive, but also the most durable. Wood siding suffers from needing considerable maintenance and is vulnerable to insects and pests. So, choose the right product for your needs.
Price: Remember, you are not looking for the cheapest licensed siding contractor, but rather the best who has the lowest prices. Once you have narrowed your list to a few, get a free estimate from each and determine which one has the price that best fits your needs.
By taking a little time to choose the right licensed siding contractor, you will get the most value out of your investment.
Contact Luxus Construction to get started. Please call 310-270-8596 for more information.