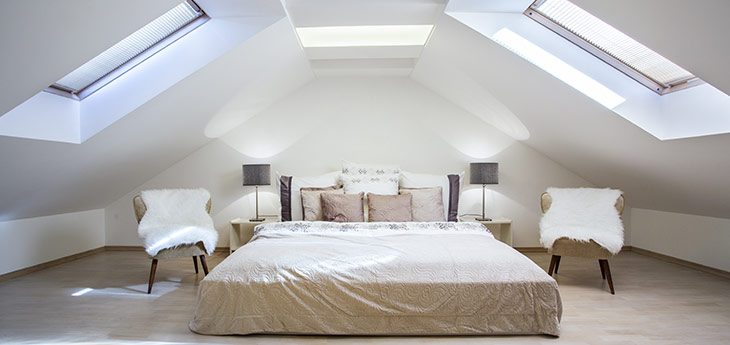 Adding a new room to your home may be as easy as converting your attic space. While most attics are used as additional storage space, the one in your home may be sufficient to create a new bedroom or activity room. There are definite advantages to proceeding with an attic conversion compared to adding an additional room to your property.
Advantages
The numerous advantages start with avoiding most zoning and easement laws that govern what you can do to your property. For example, adding a room by expanding the walls requires zoning and easement permission from the community authorities. However, an attic conversion does not change the exterior of your home or apply to easement concerns. This means far less red tape when it comes to an attic conversion.
Add Value: This type of conversion when done successfully may add real value to your home. Converting your attic to a bedroom that includes a small bath may retain upwards of 60% of its value if you decide to sell. That is one of the higher retention rates for any home improvement which applies to the sale price.
Positive Use of Space: Adding a new bedroom, especially when you have more residents than bedrooms, creates greater happiness in the home. You can also create an activity or theater room for your home by converting your attic space.
Most people who have an attic conversion are happy with the results as it makes use of the space in a positive way.
Converting Your Attic Space
You will first need a reputable contractor who can inspect the attic and tell you whether a conversion is possible and what it will take for it to be properly accomplished. The four main areas of concern for attic conversion are as follows:
Adequate Supporting Structure
Complies with Building Codes
Proper Access
Installation of HVAC, Plumbing, and Electrical Systems
The good news is that most attics have the supporting structure so they can be converted, but it is possible that your home is the exception. The cost of adding proper support may be too expensive, so you will have to consider whether it is worth the investment.
There are three types of building codes, starting with the ceiling which must be at least 7' 6" tall if the area is greater than 70 square feet. Joist codes means that it can support the additional weight of people, utilities, drywall, and items that will be in the space. Finally, egress codes require at least two different exit points which means you will probably need an escape ladder.
Access
Last, but not least is how you get into the room after the attic conversion. Most attics only have ladders which are insufficient, so you will need to add stairs. You may need to convert a closet or part of a hallway to add stairs in reaching the attic. This is where an experience contractor can help in determining the location and type of stairs needed.
An attic conversion requires a strong investment, but it does offer many advantages compared to other methods of adding rooms.
Contact Luxus Construction to get started. Please call 310-270-8596 for more information.