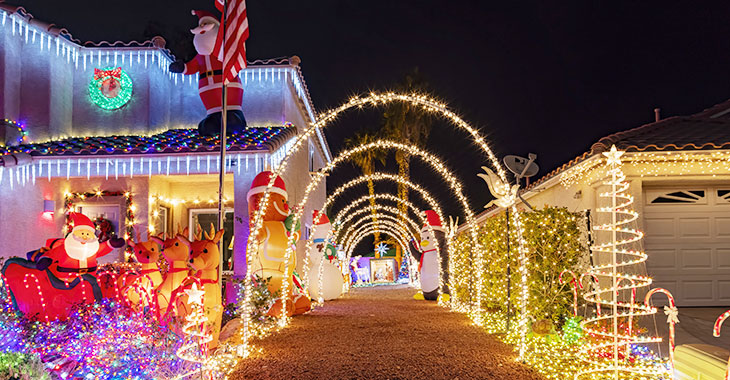 Lighting is one of the most important elements with holiday decorating, and as a LA area homeowner, you may be looking for professional electrical services for the holiday season that can help you make light work of lighting installation and planning tasks. Holiday lighting is most commonly considered for the exterior of homes, and it is true that brilliant lighting displays are a popular tradition in the LA area. However, interior lighting displays can be just as dramatic and creative, and you may want to dress up your home inside and out. Professional installation services can help you to enjoy the wonder of gorgeous light displays on the interior and exterior of your home.
Decorating Your Home's Exterior for the Holidays
With electrical services for the holiday season, you can easily create the brilliant results you are dreaming about for your exterior. Professional lighting installation can be used to precisely place each bulb on the home as well as in the yard, trees and more. In addition, professional installation may also include the addition of a timing device and even underground conduits that eliminate the need for a bothersome extension cord. This can be challenging, labor intensive work to complete on your own, so electrician services may be highly beneficial when installing lights on the outside of your home.
Improving Your Homes Interior With Holiday Lighting
Just as you can decorate your home's exterior with incredible light displays for the holidays, the same holds true for the interior of the home. Everything from the Christmas tree to the stair rail and more can be illuminated with twinkling lights, and electrical services for the holidays make it easier for you to add holiday lighting to your space. Door frames, walls and other features can also be lit up for special holiday galas and events that you have planned in the home.
You could attempt to light up your home on your own, but this takes a considerable amount of time and effort. In addition, you may have to battle poor weather conditions and deal with dangerous electrical wiring in the process. Using professional electrical services for the holiday season is clearly advantageous, and professional services can also be used to remove the lights after the holiday season is over. If you are interested in setting up holiday light installation service for your home, now is a great time to contact your electrician.
Get a free estimate for your Holiday Lighting project. Contact Luxus Construction to get started. Please call 310-270-8596 for more information.