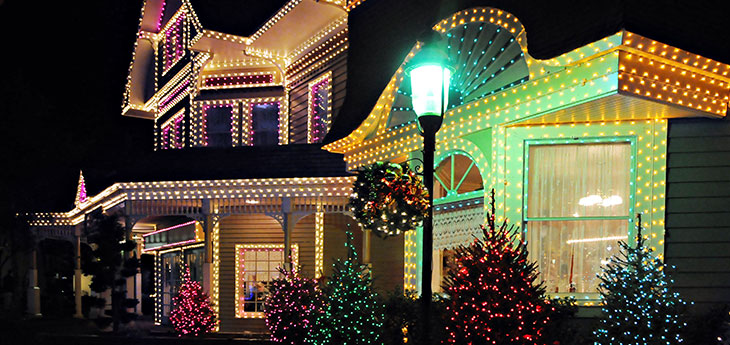 Hanging your Christmas lights like a professional is not rocket science and just about anyone can pull off a good Christmas light installation.
Using the right tools and the steps we would show you, you can successfully light your home up this Christmas. Whether you already have your lights or you are just starting out, we have put together this guide to help you with hanging your Christmas lights this year!
Plus if you can't do it, we'd just do it for you.
That said, let's get started!
Step 1: Have the proper materials
• Christmas Lights
Well, this is pretty much a no-brainer – to hang Christmas lights, you need to have Christmas lights! But just in case you don't, or you would prefer to create an entirely new design this year, there are lots of energy efficient and traditional incandescent LED lighting options that you could try out for a start such as icicle string lights, mini lights, and C7 or C9 light bulbs!
• Timers and Controllers
Timers and Controllers help you set your lights so that they come on and go off whenever you want them to. And the best part is, you don't have to be home to spread the Christmas love this season for people passing by your house.
• Christmas Light Clips
Light clips offer convenient installation that you can use to hang your Christmas lights on gutters, walkways, railings etc.
• Other Helpful Tools
Other items that might come in handy for hanging your lights this Christmas are:
• Ladder
• Light-Hanging Pole
• Adhesive Hooks
Step 2: Measure
The professionals always measure.
You don't want your Christmas lights looking confused – that's why the professional light installers at Luxus Constructions always have their tape measure handy. Measuring is the only way to determine the number of lights you will need, and the length of string lights that would be used. Measure the base of the house, then the turns and corners, doors and door frames, columns and window frames that would be lit.
If this seems a little too much for you to handle, you can always contact Luxus Constructions and we would be glad to offer our expertise!
Step 3: Evaluate Hanging Surfaces
This step is important. Before hanging Christmas lights, you need to inspect every surface that the lights would go on to determine what kind of clip would work on each surface.
Inspect the thickness of the gutter lip, and how tight or loose the roof shingles are. Check if the gutters get in the way of the shingles and more.
Step 4: The Best Christmas Lights to use
The best Christmas lights for hanging on gutters and roofs are C7 and C9 bulbs and icicle lights. Stringers and C7 and C9 bulbs can be purchased individually or as pre-lamped light strings. It's usually best to buy the stringers and bulbs separately as it gives you more wire color options, the ability to easily replace bad bulbs or change colors each year.
Step 5: Calculate the Wattage
This is another place where a professional would outshine you without thought. While fixing your Christmas lights, the professionals would calculate the power wattage to prevent blowing a fuse or overloading the circuit. To determine what your Christmas light wattage is, multiply the number of sockets by the total wattage of the bulbs to get the wattage of the string light, and then divide the answer you get by 120 to get the total amps.
Not exactly a fan of math calculations – especially during the holiday? Contact Luxus Constructions… we've got you covered!
Step 6 – Choosing the right clips for your Christmas lights
It is important to choose the best light clips for your Christmas light installation – and thankfully, this is not so hard to do. There are a plethora of clips for every application when it comes to hanging Christmas lights. Whether you want to hang the Christmas lights from high peaks, gutters, flat rooftops, paint, siding, or brick, you have a clip just for each purpose.
Our advice would be to choose all-in-one clips because they work well with the largest variety of applications and bulbs.
Step 7: Turn On The Lights!
The last step is to turn the power on. Look out for bulbs that are not lit and ensure that they are screwed in tightly and if necessary replace them.
Need help with your lighting? Get a free estimate for your Christmas light installation. 
Contact Luxus Construction to get started. Please call 310-270-8596 for more information.