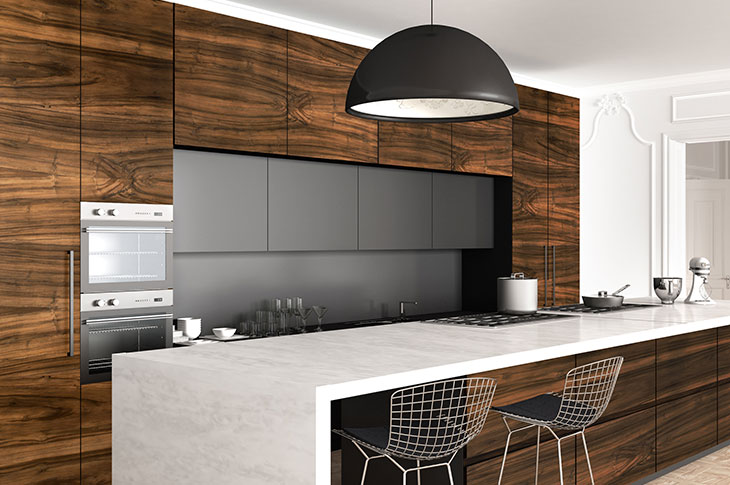 For busy kitchens, the best countertops combine the attributes of being strong, durable, and easy to clean. Which is why many struggle deciding between sintered stone vs quartz.
What helps if they are made from materials that compliment your kitchen décor. But the main reasons to purchase specific countertop materials are for their overall strength and being easy to clean and maintain.
Which means you must consider the materials used in terms of their availability, affordability, and overall positive attributes. Two of the more popular types of materials used in countertops today are sintered stone and quartz.
To understand which material is better for your needs, it helps to know what sintered stone and quartz are in terms of their attributes and the differences between them.
Sintered Stone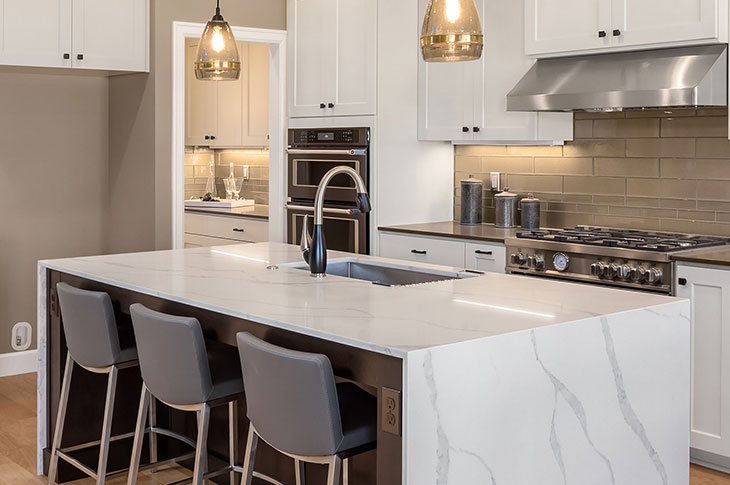 You may have heard of sintered stone as it has become quite popular in recent years. It is a large porcelain created from raw natural materials using a special process. The materials are pressed together under extreme pressure and then heated to temperatures that exceed 1200 degrees C. The result is that the finished product can withstand cutting, grinding, and even drilling.
Sintered stone can be used for any application where natural stone can be used. Such uses include the following:
Countertops, bathroom vanities, and furniture
Flooring, stairs, and fireplace framing
Outdoor flooring, including patios, spas, wet rooms, and swimming pool tiles.
Despite the process that creates sintered stone, it features a raw, natural appearance that can appear to be stone or wood and is smooth. It's also relatively light and can be easily shaped.
Quartz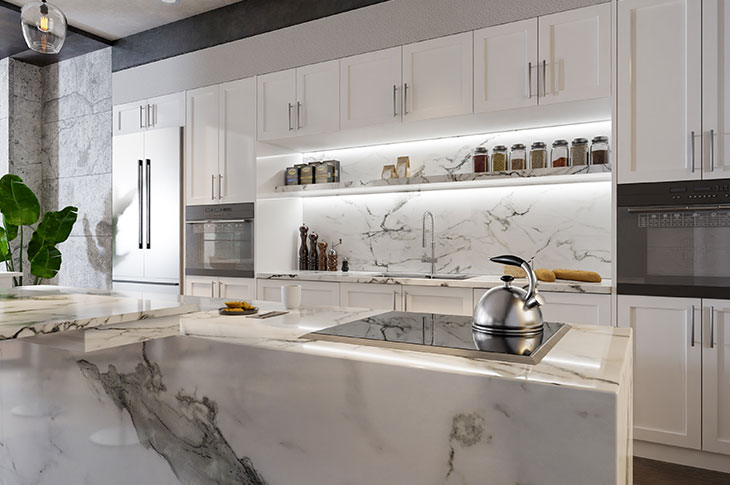 Quartz is another popular choice, being made from more than 90% quartz crystal with other resin and trace elements. It can be used in a similar fashion to countertops made from sintered stone and has attributes that make it a fine choice for many homeowners:
Lower Cost
Durable
Strong Variety of Uses
But is quartz superior to sintered stone? The answer is found when comparing both materials.
Sintered Stone vs Quartz
There are many attributes that sintered stone and quartz have in common. This includes their versatility, availability, and color choices. But there are important differences as well.
Cost: Sintered stone is considerably more expensive compared to quartz. Because of its creation process and use of all-natural raw materials, sintered stone will be far more costly to purchase.
Durability: Sintered stone is also quite durable to the point where you may never have to replace it as your countertop. In addition, sintered stone is far more heat-resistant compared to quartz. This means items hot enough to leave scorch marks on quartz may not leave anything behind on sintered stone.
UV Resistant: For countertops set up outdoors, sintered stone is highly resistant to ultraviolet light along with the elements.
Which One to Choose?
If you can afford the up-front cost, sintered stone is the superior choice. It contains all the attributes of quartz with some added advantages in durability and longevity that make sintered stone the most cost-efficient choice over the long run.
Contact Luxus Construction to get started. Please call 310-270-8596 for more information.