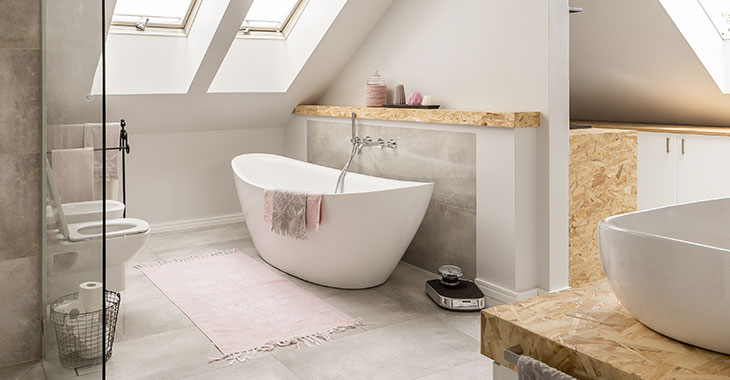 Of all the rooms in the home that are right for remodeling, the bathroom is arguably at the top of the list. Because of the heat, moisture, and other stresses that the bathroom experiences, a remodeling effort needs to be well planned. This means that for your bathroom remodel planning to succeed, you need the right professions at your side. Luxus Construction offers their knowledge, expertise, and exceptional reputation in remodeling bathrooms and all areas of the home.
How to Start
If you are thinking about remodeling your bathroom, then you need to start by looking it over. Take a good look and think about what you want to change. There are good reasons to remodel you bathroom, especially if it needs attention.
Addressing Repairs
Adding New Fixtures
Repainting Walls
New Tile for Floors
Improving Overall Value & More
Note what needs to be fixed, such as cracked tiles, peeling paint, and especially areas that are subject to the buildup of mold and mildew. The next step is usually the most fun, adding something new to the bathroom. You may want to add a tub or replace an existing tub with a shower stall. You may want new sinks, fixtures, and the like. If so, then you will need to take the next step.
Create a Plan: To remodel a bathroom, you'll need to purchase the new items that you want and plan to have them installed. Like any construction project, a remodel involves specific steps in getting things done which means creating a plan that can be understood and carried out.
Demolition: In order to put in what you want you are going to have to take something out. This means have to remove what is unwanted and that can be a big mess. This is especially true if you want new flooring or to remove items that are built-in to the bathroom. The demolition process can be quite messy, and you'll need the proper tools and rubbish removal to do it right.
Once you have completed the demolish process, the next step is installing the new items that you want for your bathroom. You may have to do some cleaning at this stage and repairing any issues found during the demolition. This means that you can do the work yourself or you might wan to get some help.
Professional Help
If you want to remodel your bathroom, then getting professional help is the best. Unless your remodeling effort is simply to paint or cover over what already exists, you will need to remove or demolish some of the structure and replace the fixtures with new ones. A professional remodeling company has what you need to get the job done.
If you need the best in bathroom remodel planning, call the professionals at Luxus Construction. Our friendly, courteous staff will explain our services, answer your questions, and send out a representative to inspect your bathroom and provide a free quote for our services. Remodeling your bathroom not only means changing it to what you want, but it also improves the value of your home.
Contact Luxus Construction to get started. Please call 310-270-8596 for more information.