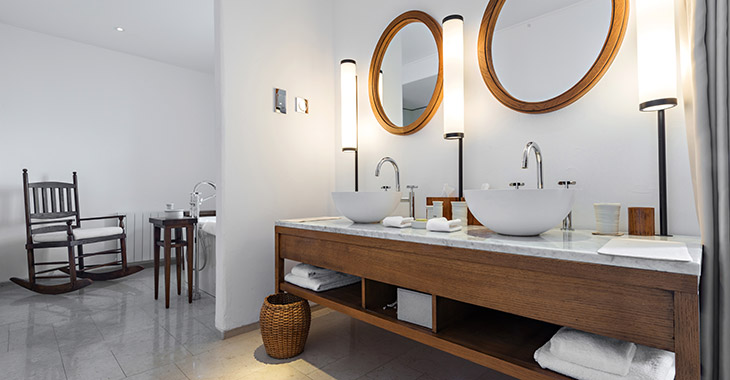 If you are like most people, you may easily spend a couple of hours per day in the bathroom getting ready for your day in the morning and completing personal hygiene tasks in the evening. Perhaps you simply like to soak in the bathtub after a long, hard day at work, or you may enjoy long, hot, steamy showers to start your morning off right. Regardless of how you spend your time in the bathroom, one thing is for certain. You want this space to be enjoyable, stylish and fully functional. You may be looking for a few bathroom remodel home design ideas that can help you to improve your space to your satisfaction.
Where to Find Bathroom Remodel Home Design Ideas
There are a nearly endless range of bathroom remodel home design ideas for your space, and these range from basic design ideas for a contemporary bathroom to storage ideas for a cramped space and more. Many bathrooms have an irregular shape or a small size, and this can make it difficult to pull off some design ideas. The best ideas are those that are functional for the space available as well as stylish. You can find bathroom remodel home design ideas in areas such as home improvement stores, design magazines, new construction model homes and more.
Bringing Your Vision to Life
You can use these resources to create your own customized bathroom design idea for your space. Some people may incorporate multiple ideas from different design plans, and others may customize a single plan to make it work for their space. After you have created a design that you love, your next task is to bring that vision to life, and a skilled contractor can assist you with this. A contractor has the knowledge, skills and experience necessary to turn any vision that you have for your space into a reality, and you can begin searching for a contractor to hire today for your next project.
Updating one or more bathrooms in your home is a serious undertaking that you do not want to take lightly. Spend ample time exploring the bathroom remodel home design ideas available, and make a great selection about the design ideas you want to incorporate into your space. Then, choose the right contractor to hire to help with your project. By taking these preliminary steps now, you could soon be enjoying the benefits of a newly remodeled bathroom space.
Get a free estimate for your bathroom remodel project. Contact Luxus Construction to get started. Please call 310-270-8596 for more information.