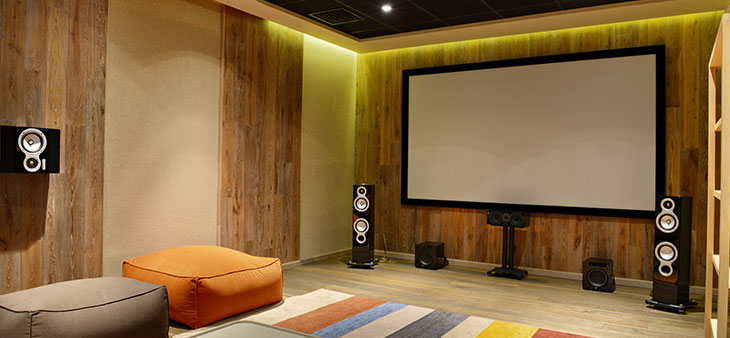 When you do not want to or cannot expand your home upward or outward, basement remodeling is an ideal way to boost your home's value and add to your enjoyment. An experienced basement remodeling contractor from Luxus Construction will work with you to set the goals for the project, choose quality materials and create blueprints for the finished space. Consider these three benefits of working with our basement remodeling contractor to improve the functionality and aesthetics of your home's basement.
Increases Living Space
One of the biggest benefits of choosing our Luxus Construction basement remodeling contractor is how the project increases your living space. Rather than the basement being a seldom-used place where the mechanical systems, utility panel and a few boxes or bins of off-season decorations are stored, your basement could become a favorite place in the house. Creating an inviting game room, movie room, craft space or play area makes the most out of your basement space. Moving your home theater and entertainment system, sewing supplies or kids' toys into the basement can also free up the other spaces in your home, creating a less cluttered environment.
Ensures Great Home Condition for Future Buyers
If you are considering selling your home within the next few years, the services provided by our basement remodeling contractor ensure that the basement is in great condition. A home's basement may be plagued with moisture problems, cracks in the foundation, bowed walls or water intrusion. After a basement has been remodeled by experienced contractors, these problems will be resolved. When prospective buyers enter the space during an open house or home tour, they will see that the entire structure has been well-maintained, from the foundation to the attic. Many home buyers do not want to deal with making basement repairs, so knowing that the basement is already in great condition will inspire people to make an offer on your home.
Inspires Multiple Offers
A spacious, well-maintained home may encourage multiple buyers to make a bid on your home after it is listed for sale. When multiple offers come in, you may be able to enjoy a great final sales price. In many cases, a situation of multiple buyers can result in a sort of bidding war. The added space provided by your basement makes your home more valuable and attractive, which means that people are willing to pay more money to buy it.
Contact Luxus Construction to get started. Please call 310-270-8596 for more information.