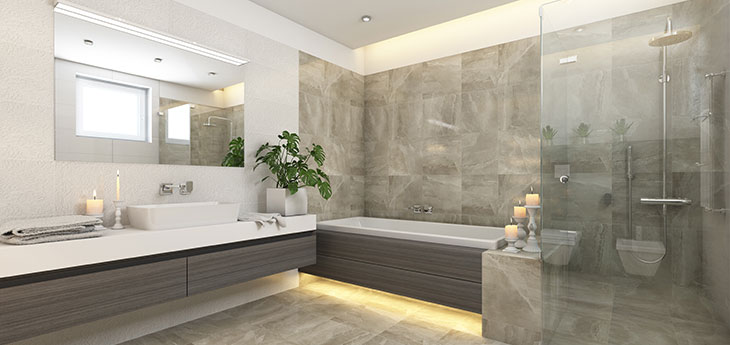 Bathroom remodels provide some of the highest resale returns as a home improvement project. However it is not by any means cheap, and it can take a long time to complete. Therefore it is essential to gather and plan your bathroom remodeling ideas ahead of time for the room and then find the right remodeling contractor for the job. Asking questions, setting realistic expectations, cost estimates and budgeting from the start can mean the difference between finding a contractor you trust and enjoy working with versus a long and trying few weeks. Homeowners have different types of bathroom remodels to choose from, dependent on your style but more importantly, the budget.
Custom-Built or Store-Bought Accessories?
Once you have ideas for your renovation planned out, the next step is to find bath remodel accessories in your price range. If your idea for the bathroom doesn't fit exactly within a type of style like modern or contemporary, you may need to hire a professional craftsman to custom build accessories like the vanity, countertop or mirror frame. These specialized contractors will have different prices for their work depending on the material you want the accessories made from and how they calculate their prices: by the hour, job or otherwise.
Remodeling Project Budget
If you want to stay close within your budget, there is the option to buy accessories like sinks, toilets, countertop materials, cabinets and different lighting options at home improvement stores. They have a variety of options when it comes to items like bath lighting, toilets, sinks, vanities and cabinetry because they come straight from different manufacturers. Of course, you might leave the selection to your general contractor if you're uncertain about buying what fits best within your budget and design. Contractors often also have wider access to bath remodel accessories because of their personal relationships with manufacturers. This also means they could buy them for better prices than at a home improvement store.
Remodeling Project Price & Schedule
An experienced contractor should be able to give you a written schedule and list of the construction tasks they are going to perform and what their deadlines are for the completion of each task. This helps prevent disagreements along the way and gives you clear expectations about how long the project should take to complete.
A bathroom remodel is often a lengthy project, and thus a contractor may ask for money in advance of the work being started and after completion of specific milestones along the way. Make sure that the payment schedule and total amount is agreed upon and put in writing before the start of the project. Then at the end of the project, the contractor will be able to give you an itemized list of everything included in the remodel and how much it costs in total.
Remodeling Contractor's Work
A bathroom remodel involves various areas of expertise: construction, plumbing, electrical and lighting. Talk to your bathroom remodel contractor at the start of the project about how they deal with mistakes, damage and repairs that may arise. Make sure the work will be backed up by an expressed warranty or guarantee. You want to get the value of a new bathroom for the amount of money you are paying the remodeling contractor. What you don't want is the additional cost of repairs and maintenance for mistakes made in the initial remodel.
Contact Luxus Construction to get started. Please call 310-270-8596 for more information.